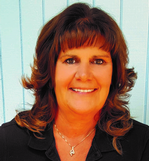 916.997.2111
916.667.9354 fax

karen@stanleyrei.com
9129 Elk Grove Blvd.
Elk Grove CA, 95624
Receive Email Alerts from Me
Karen Morcomb
Realtor
Karen Morcomb is a licensed real estate agent actively involved in marketing, listing, and selling homes in South Sacramento county for over 10 years.
Karen is a member of the Sacramento and National Board of Realtors. She has 25 years of experience working as an office manager, bookkeeper and legal assistant with law firms specializing in family law, probate law, personal injury, eviction and insurance defense. She has worked as a licensed mobile home dealer, marketing, listing and selling in the Sacramento area as well as being actively involved in the escrows and management of manufactured home sales.
Karen owns a Curves Fitness Center for women and her many years of experience has given her the advantage of knowing how to assist clients in any situation. Her experience training staff and attorneys on time management has given her great organizational skills. Karen is a proud sponsor of birthdefects.org and a donation is made with every transaction.
With dedication, knowledge and superior customer service, Karen can partner with you to find the home of your dreams.